Fred Gall and friends (specifically Joe Dorsi) started Domestics as a skate shop at some point in the early years of the 21st century in Carteret, New Jersey. Finding more success with making clothing (and not properly zoned for clothing production at the shop), it eventually moved to a warehouse where it continues churning out screenprinted shirts and hand-sewn jackets, bags, and other soft goods to this day, made right here in the US of A; Including the Fred Gall Signature Lightweight Work Pants. They also make pandemic face masks. In 2013, they released a little Fred Gall promo part. It's pretty badass.
It's got some all-time Freddy moments in there like the kickflip backside noseblunt to backside revert, a dump truck into a dump truck, and a heavy gap into bank ollie in front of a dozen mesmerized Cambodians. And I bet you missed that crustition fakie kickflip.
Most monumentally, Freddy takes things up a notch at his hometown Metropark narrow street quarter pipe thing, a spot he has been continually fucking up for a while now, with a this beauty:
Fred talked about the origin of the name 'Domestics' in a 2008 Thrasher interview:
"There was this bar next to my mom's house when I was 18, and I would go and drink beers in there. I would order Budweiser by telling the bartender, 'I'll have another Domestic.' I got kicked out of there so many times, but I lived next door so I would put on costumes and go back in there. I'd dress up as different factory workers."
Habitat also released Search the Horizon in 2013. Not a bad video, but very much focused on the newer riders like Al Davis, DeLa Torre, and Mark Suciu. Freddy only had 3 tricks.
A few months before the release of Search the Horizon, Pacific Vector Holding Inc. had bought a controlling share in the DNA brands: Alien Workshop, Habitat, and Reflex bearings. Within a year they would be dismantling it. This, along with a lot of highly publicized departures, led to the temporary end of Alien. But Habitat, thanks to a lot of Castrucci efforts and a short-lived distribution deal with Tum Yeto, kept itself more-or-less together. Fred stayed on the team, but found his role being diminished. As Kerry Getz and Tim O'Conner would fade into retirement, now Gall would not only be the last of the 1990s Alien Team to remain, but the final member of the original Habitat line-up still standing.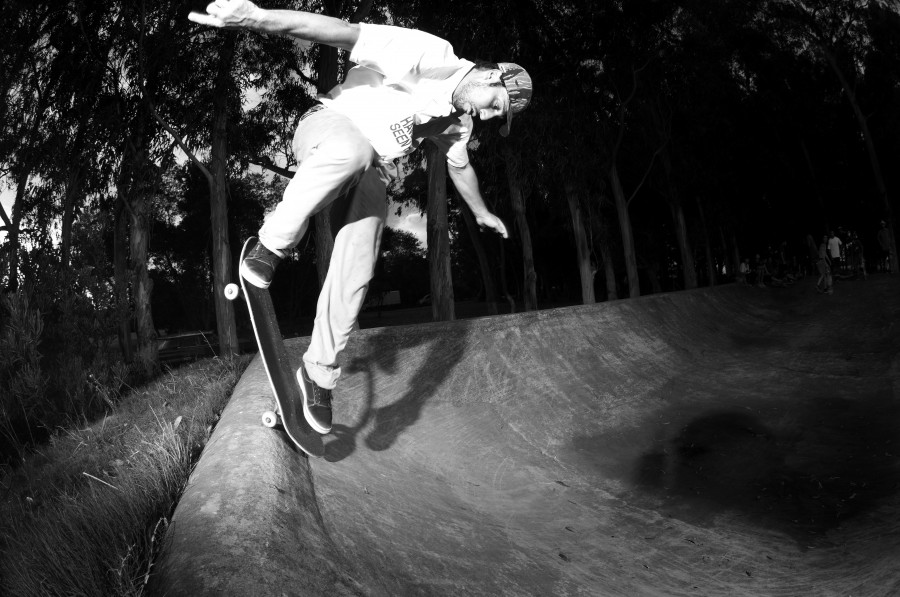 Fred, like so many skateboarders before him (and along with him (and also in the future)), lost a lot of productivity down the black hole of the NYC party scene around this time. Somewhere in the haze he found himself spending a brief amount of time locked up, a brief amount of time being married, finding a job in the construction industry, helping build the Shorty's Place DIY park, and skating regularly in front of Andrew Petillo's lens.
Which leads us to our (almost) final Fred Gall part (for now). A two and a half minute promo for his new wheel with OJs, released in 2015, called, logically enough, Freddy Gall for OJ Wheels!
As has become the trend, several tricks in this part were seen before. Regardless, the part itself still holds up pretty well. 82% of the tricks are on crust, 24% are wallrides, and 52% are on some kind of transition. A couple of key moments would be the backside 270 ollie nosepick to 270 revert out, the hefty quarter to quarter frontside flip, and the 1-2 punch of the gap to frontside tailslide on the banked ledge followed by a quickie hippie jump.
But wait, there's more… I just learned that in late 2015 Freddy shared a part with Al Davis and DeLa in John Valenti's Local Express video. John's filming is always impeccable, and Fred, as usual, destroys some banked ledges from both stances.
Bonus Fred:
Fred Gall tours the Domestics warehouse and talks about spots in this early video from Jenkem:
Bonus Bonus Fred:
In Search the Horizon, Mark Suciu did a little homage to the master…
Bonus Bonus Bonus Fred:
The Scum League, sponsored by OJ Wheels, returned to a rain-soaked Shorty's Place in 2013.
Bonus Bonus Bonus Bonus Fred:
Now you can learn to patch spots with as much skill and craftsmanship as master bondo artisan Fred Gall in this 2014 Jenkem instructional video:
Bonus Bonus Bonus Bonus Bonus Fred:
Some Thrasher content featuring Freddy's First Look at the mag from 2013. Some great moments here such as Freddy pining for Geoff Rowley's Vans' paycheck, giving ex-teammate Austin Gillette some sass, affectionately calling Dylan a "ladyboy", and counting stairs like a skate rat.
Check back in the Warm Up Zone cause we ain't done. Uncle Freddy hasn't released a 'part' since 2015, but he hasn't been silent either. We still have plenty more Fred to ponder including the dark years that culminated with whatever the fuck it was that happened at Bam's, our hero gets sober and then gets busy, and Freddy tells us what he his cooking up for the future.