In 2021, all of Fred Gall's hard work started to bear fruit. While we went a whole year without seeing that part we've been promised, he was far from being silent. Freddy continued to stay "sober" (the kind of sober that includes smoking reefer, which we'll take), continued furiously skating with friends in the New Jersey area, and continued pouring a bunch of concrete not just in his back yard but also under a nearby bridge and really all over New Jersey.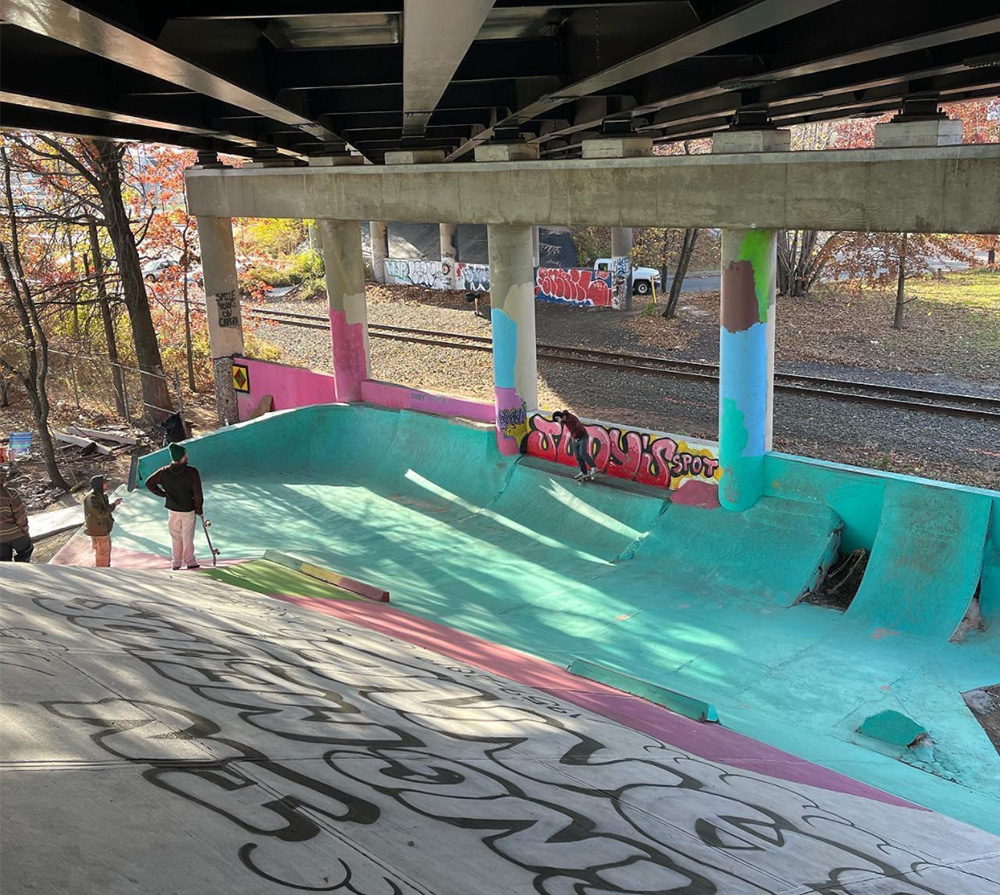 Most of Freddy's efforts and time went into what would become Jody's Spot (named after Freddy's late mother). Through regular Instagram updates we saw what was basically an embankment into a pit of gravel turn into a series of colorful quarterpipes and flat banks.
As is the way with these things, as the DIY spot turned into a DIY park, concerned citizens took notice and eventually the spot was demolished.
While Jody's was rocking, Freddy and friends got a lot of good clips and cuts in. Here Fred celebrates his 43rd birthday with 43 tricks at the spot:
While Habitat continued to keep Fred in limbo for much of the year, Thrasher definitely was onboard for their boy. In October they released an Out There episode about Freddy. It's chock full of Jersey DIY action, Granny's backyard Compound, Fred's return to Philadelphia, skating with BA and Kalis, and talks about sobriety. It's pretty great.
Not long after that dropped, Thrasher Magazine bestowed Frederick the honor of his second cover (the first coming 27 years earlier), a rare portrait cover shot by Paulgar. Sure, the issue is for Feb 22, but you know how these things release several months prior so we're still filing it under 2021. Inside the mag are 14 pages of historic photos from Fred's history (including a few I haven't seen before) and an interview with the man himself.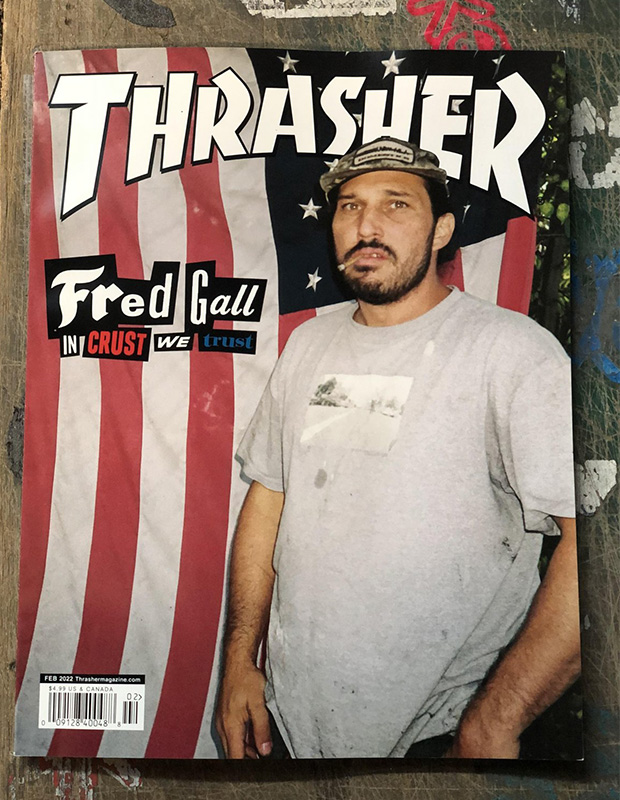 But it wasn't all magazine covers and crust for Uncle Freddy in 2021. Towards the end of the year, his Instagram account (the one with all the amazing Spot Checks) got hijacked and used to perpetrate further scams, some of which involved a video of Fred. He fought the good fight to get it back, but no sooner had he regained control then IG deleted it. So all those beautiful spot photos are gone forever. If you want to follow Freddy, check him at @freddygall78.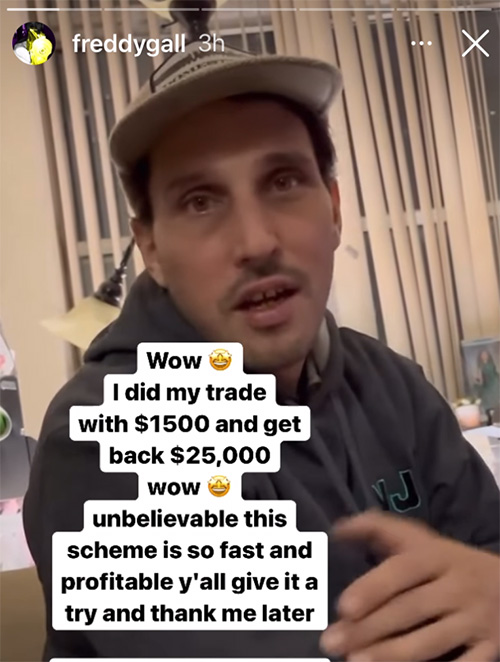 Stay tuned to the Warm Up Zone cause you know what is coming next… the rebirth of Metal, more possible Alien Workshop reissues, and Spiritual Healing.
Bonus Fred:
Brian Anderson's Lannibug part for Ace, made by Paulgar, came out in June. It was a tribute to Paul's wife and local skate fixture Alanna Gabin, who passed away earlier in the year. It covered the pandemic-era footage of BA skating the Jersey crust. As logic would dictate, Freddy got a few cameo clips in the mix:
Bonus Bonus Fred:
Back in February of 2021, our boy and Oski hit that gnarly wind-tunnel full pipe for Jenkem. You may remember this spot from Vice's 2017 Can You Skate It? segment mentioned in a previous All the Gall installment.
Bonus Bonus Bonus Fred:
Freddy started his own Youtube Channel, the brilliant named On The Spot with Fred Gall. In the 7 months since it's inception there have been 2 video uploaded. Even if all we get is Freddy in a helicopter looking at Jersey spots, it is worth subscribing to:
Bonus Bonus Bonus Bonus Fred:
I suppose if we're talking All the Gall, we should embed his "Steezy Mixtape" compilation of his social media clips from the first half of 2021: